Nuances of Negative Reversals and Share Offerings - Wednesday, December 12, 2007
Nuances of Negative Reversals and Share Offerings - Wednesday, December 12, 2007
Often, when a leading stock is setting up to breakout of a solid base it is highlighted in CANSLIM.net's Mid-Day Breakouts Report. The most relevant factors are noted in the report which allows prudent CANSLIM oriented investors to place the issue in their watch list. After doing any necessary backup research, the investor is prepared to act if and when the stock triggers a technical buy signal (breaks above its pivot point on more than +50% average turnover). In the event the stock fails to trigger a technical buy signal and its price declines then it will simply be removed from the watch list.
Nuance Communications, Inc. (NUAN -$1.80 or -10.28% to $19.31) gapped down under its 50-day moving average (DMA) line for a considerable loss on nearly 3 times normal turnover after negatively reversing on Tuesday. This high-ranked stock was first featured in yellow on Tuesday, December 11, 2007 in the CANSLIM.net Mid Day Breakouts Report (read here) with a $22.66 pivot point and a $23.79. The report said "Y - Challenging prior chart highs in the $22 area that previously acted as resistance. A buy signal may be triggered with gains above its pivot point backed by at least +50% above average volume, but patience is paramount until there is proof of bullish institutional buying demand (to satisfy the I criteria). Best ranked stock overall in the Computer Software - Desktop group (ranked 90th on the 197 groups list) with leadership from goliath Microsoft Corp (MSFT) helping to somewhat satisfy the L criteria."
Nuance did not trigger a technical buy signal, but instead it negatively reversed to close with a loss on very heavy volume. The company then announced an offering of 15 million shares in which the company will not receive any proceeds from sales of shares made by selling to stockholders. The stock gapped down today, slicing below its 50 DMA line, demonstrating the fundamental news' swift impact. This is a great example of how important it is to be disciplined about entries. Investors must avoid the temptation to buy stocks before a proper technical buy signal is triggered. This breakdown may have dealt a quick and painful loss to anyone who blindly buys stocks simply because they appear highlighted in CANSLIM.net reports, but without paying attention to the details concerning whether or not the featured stock actually triggered a proper technical buy signal. The action also demonstrates how negative reversals can be bearish indicators. Further, it demonstrates how news that is fundamental in nature often has an immediate impact on share prices. Based on the poor action this stock will be removed from the CANSLIM.net Featured Stocks List tonight.
C A N S L I M | StockTalk | News | Chart | SEC | Zacks Reports |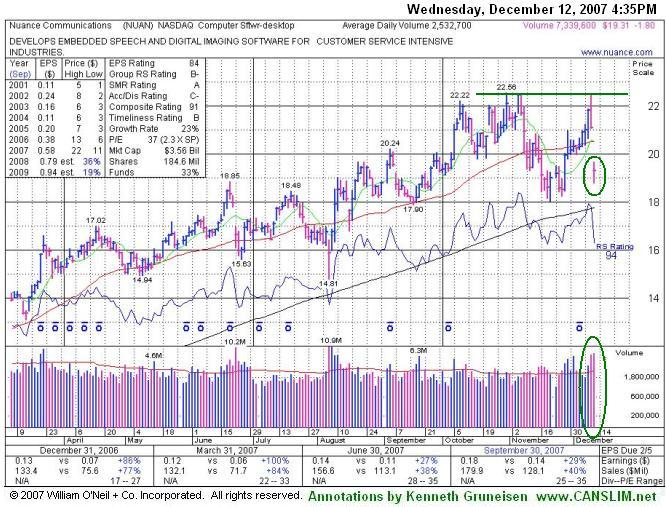 View all notes | Alert me of new notes | CANSLIM.net Company Profile
---