Finish Near Session Lows Indicated Distributional Pressure Before Earnings News - Thursday, February 14, 2013
Finish Near Session Lows Indicated Distributional Pressure Before Earnings News - Thursday, February 14, 2013
B & G Foods Inc (BGS +$0.01 or +0.03% to $32.24) was highlighted in yellow with pending earnings news in the earlier mid-day report (read here) with a pivot point based on its 1/28/13 high as members were cautioned -"Volume and volatility often increase near earnings news." It hit a new 52-week high with volume running at an above average pace, however it finished the session flat and near the lower extreme of its intra-day range, a sign it was encountering distributional pressure. No overhead supply remains to act as resistance, however, it did not have the look of aggressive accumulation and heavy institutional buying demand.

After the close it reported eaernings +7% on +16% sales revenues for the quarter ended December 31, 2013 versus the year ago period. That was well below the +25% minimum earnings guideline (C criteria) and it raises some concerns, fundamentally, for this leader in the "Food - Packaged" industry group. Prior to the sub par results, what made it a worthly candidate was the fact that the company had reported earnings increases above the +25% minimum guideline (C criteria) in the past 3 quarterly comparisons through Sep '12. It also has a good annual earnings (A criteria) history. The number of top-rated funds owning its shares reportedly rose from 259 in Sep '12 to 267 in Dec '12, a slightly reassuring indication for the I criteria.

With the latest developments, disciplined investors might sooner consider looking at another high-ranked leader without fundamental flaws. Even if bullish action may follow this latest news, members should keep in mind that the fact-based investment system's big winning models were usually companies that had a hot new product or service which was in demand - directly impacting sales and earnings comparisons. Investors can sometimes avoid getting bit with losses when the price/volume action does not indictate undeniable accumulation by the institutional crowd confirming that an entry makes sense and odds are most favorable.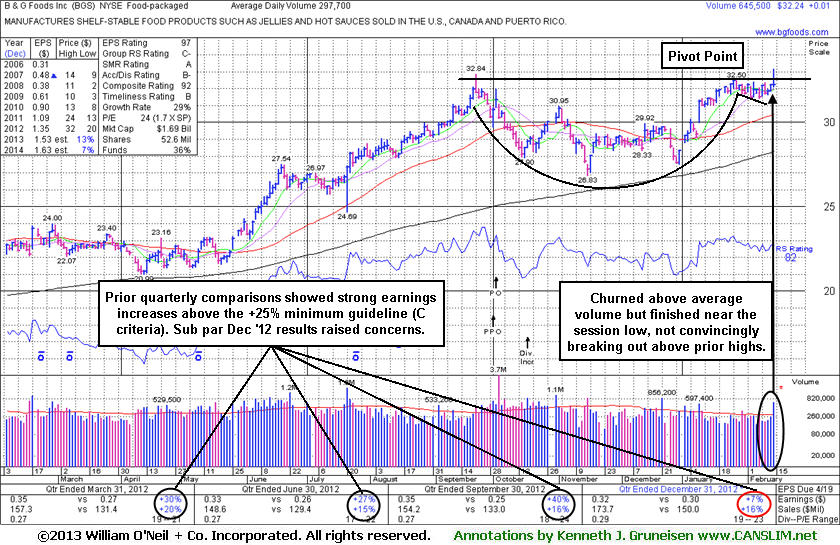 ---